I, Product Introduction
UV decorative PVC wall panels are widely used in any Interior wall decoration because of the easy processing and low maintenance. The pvc wooden wall panel look like of marble, granite stone at 1/5 weight, 1/10 the cost. PVC Wooden wall panel has the features of bright surface, natural design, Insulation, abrasion resistance, chemical resistance, water proof and Durable. It is the best choice instead of ceramic tiles.
Product usage:
PVC Marble panel Can replace natural marble, MDF board, natural wood, ceramic brick, aluminum plastic board and other products, widely used in tunnels, subway, airport, shopping malls, hospitals, KTV, hotels, offices, kitchens, toilets, laboratories and other venues of the interior wall decoration.
Advantage:
Compared with marble, has the price advantage;Compare ceramic tile, have dimensional advantage, it is the ideal choice that contemporary interior decorates.
Characteristic
1) Non flammability:PVC decorative board is non-flammable and conforms to the national grade
2) Water-proofing and moisture-proofing: The product is allowed to long-term expose to moist environment.
3) Problem free:PVC decorative board provides good insulation against bugs, fungus and corrosion. It can last for a long-time and will not corrode.
4) It is glossy, wear-resistant, easy clean, the hardness can reach 3H-6H.
5) The weight is only one fifth for the natural marble, and price is one tenth of the natural marble.
6) Great imitation of natural marble in color and touch
7) High-strength,high-hardness,high/low- temperature resistance
8) Long service life with low maintenance
9) Environmental-friendly, 100 % recyclable;
Regular specification
Standard size:1220mm x 2440mm/ 1200mm x 2400mm
Thickness:1.2mm-6.0mm (1.2mm.2mm.2.8mm.3mm.3.2mm)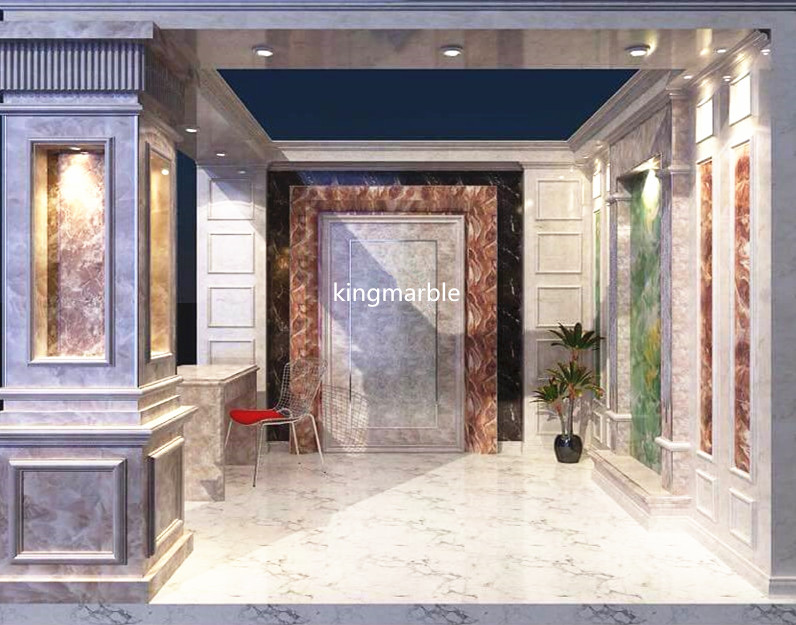 2,Production process:
PVC calcium bicarbonate and other raw materials → vacuum suction feeding → hopper storage → extruder feeding → extrusion molding → traction → cutting → inspection UV → UV curing treatment → protective film treatment → inspection → warehousing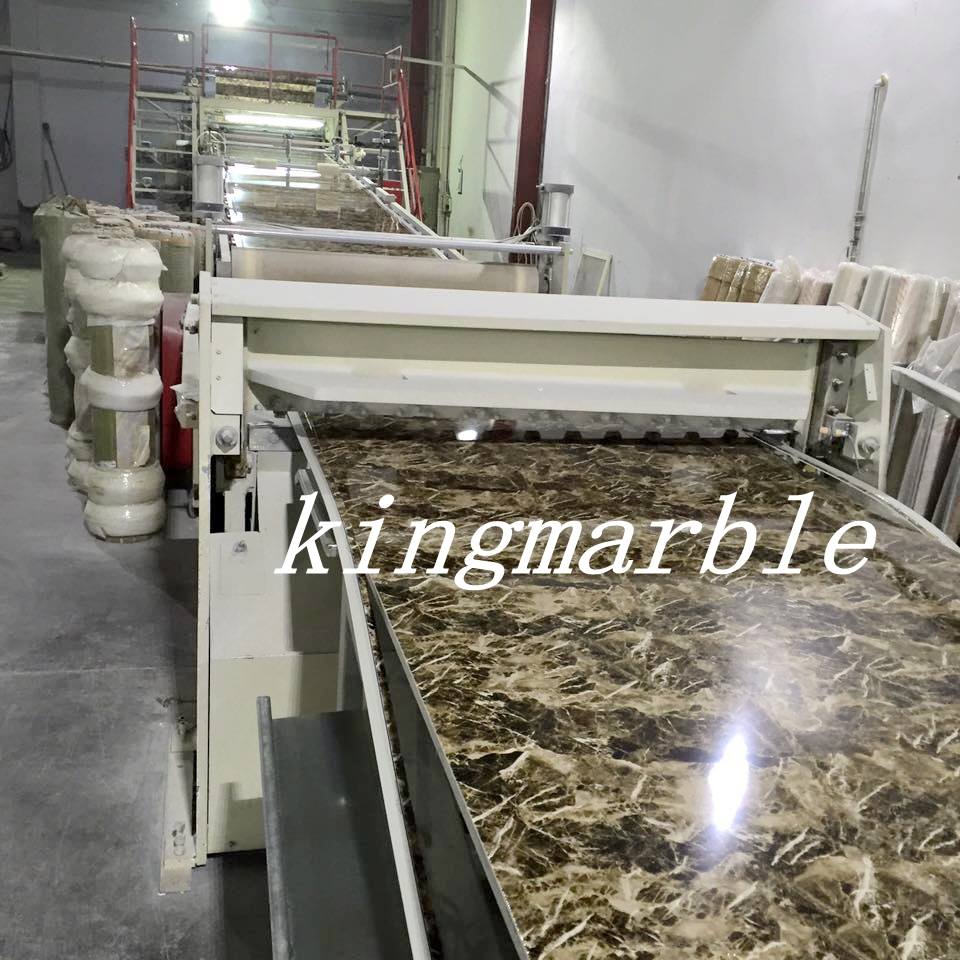 3, Product Introduction
1.Surface protective layers
Layers are composed by waterproof layer,color pattern layer and protective layer.processed by the world advanced special technology.protective layer is the UV coating layer,which is wear-resisting, mouldproof, antibacterial, easy to clean, hardness up to 3 h to 6 h.
2.Basic material layer
Made of calcified plastic board.processed into with marble, wood grain texture or personalized decorative panel.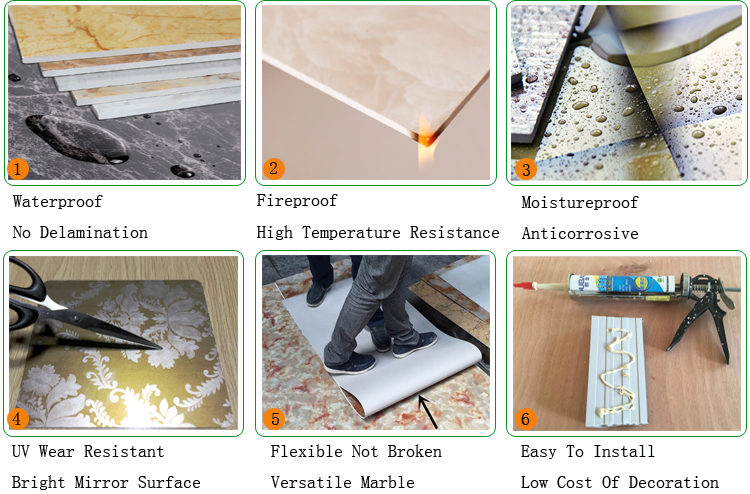 4,pvc marble sheet installations
Silicone Sealant
1, Clean the wall;
2, If the wall is not flat, pls use 3mm plywood as base board, if flat, can install panel directly;
3, Cut the panel to your require size;
4, Silicone sealant on base board;
5, Clean the panel;
7, install the panel on the wall;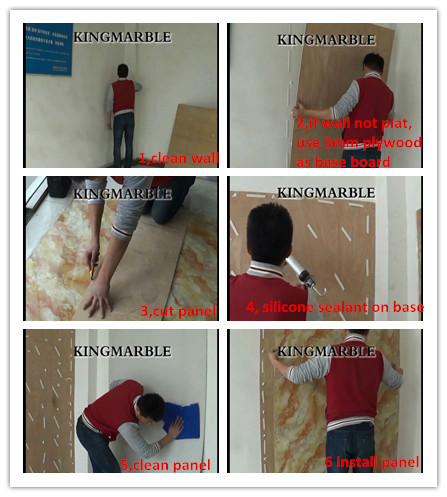 ALUMINUM STRIP
1, Clean the wall;
2, Choose the aluminum strip
3, install the aluminum strip on the wall (use nail gun );
4, Cut the panel to your require size;
5, Install the panel on the wall
5, After-sale Service
1,We provide detail installation video for your project;
2, If have product problem, we will send same quantity product or same value to compensate your loose;
3, we will provide detail of famous project design for your reference.
6, Projects